Buckeye's Page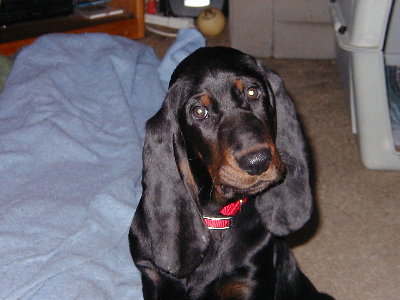 Click here to read the story about how Buckeye came to Seattle
Buckeye's Photo Page
Tuesday, December 30th, 2003
This is Buckeye's page. I'll post stories and photos about the pup growin up here. So far I havent gotten too many good photos...we've been pretty busy with our training! He is a smart puppy and he is housetraining and crate training very fast. We go down to Ken's house a lot and Buckeye has met a lot of people now. I'll keep updating this page and I'll create a photo page once I have a few more good pictures.
Saturday, January 3rd, 2004
Buckeye had a good new years holiday this week. He got to experience snow for the first time and he went on his first two ski trips to Steven's Pass. He was a little timid when we first got to the cabin and he wouldnt come out of his crate, but once he got to explore a bit he was fine. He loves to play in the snow and had a lot of fun in the 30 inches of snow at the cabin. Lynn brought her dogs up on Friday and Buckeye followed them everywhere.
Friday, January 9th, 2004
Buckeye had his first visit to his new vet today. He got weighed for the first time (36.7 lbs!) and got his rabies tag. Everyone at the vet loved him and thought he was just adorable. Today we had several high points. Buckeye's training has been going pretty well and he seems to be a smart dog. I had been carrying him out of the back window to let him outside rather than going out the garage door and it was working out good with his housetraining, but he is getting bigger by the week and soon carrying him around wont be an option. He was motivated to find his own way in and out thru that window, about a 12 inch jump into the inside and 28 inch jump to the outside.
I decided today that I will register Buckeye with the AKC under the limited registration Lynda Webb is going to send me and begin his march toward the ultimate goal of AKC Champion Tracker and SAR dog. That is a huge goal to set, and it may take us a long time to learn all we need to learn, but I think Buckeye is capable of doing it. I'm not sure I am....and thats why we are going to take it slow. I want to try to see if Buckeye can earn Companion Dog and Utility Dog titles along with a CT (Champion Tracker) title.
Back to that window. Bobdog was a graceful dog sometimes. He could leap in or out thru that window in several ways and look good every time. I had to show him when we first moved here, but it only took a couple of days and he was leaping right thru. I've had to pick up Buckeye and lift him in and out for his house training because he is nowhere near big enough to jump for it, and even if he could I wouldnt let him. He's a pup and it could do permenant damage to him.
He was motivated to find his own way out...and he was REALLY motivated to find his way inside. I had toyed with the idea of a ramp combined with a nightstand inside the window for Buckeye to get out. After reading about the dogwalk in AKC Agility, I figured why not create a natural dogwalk. I found a 5 foot long, 12 inch wide piece of plywood and sprayed one surface with a rubber automotive sound and weatherproofing material for traction. I set that outside and moved the nightstand so the ramp led right up thru the window and onto the nightstand. Buckeye liked learning how to climb up to the window inside, but he didnt like going down the ramp headfirst. We made 2 or 3 'assisted' trips up and down the ramp where I simply stayed behind him and guided him up and down the ramp with my hands on his chest and my arms draped along his body. He was nervous, but calmed down and took a few steps each way on his own. We stopped after that.
Saturday, October 16th, 2010:
Okay...so it's been awhile since I updated this page. 6 years or so. Buckeye is still doing good...he has grown into a confident and happy hound dog. We moved into a new house with a big yard a few years ago and he's happy to run and play and chase squirrels and crows now. He still has an apple tree so he can eat apples, and I planted a herb garden earlier this year...he likes parsley!
Buckeye turned 7 years old in September and he's starting to get a little grey around his muzzle, just like Bobdog did when he was this age.He recently had surgery to remove a growth/tumor/thing from his side behind his right front leg and he's recovering from that. He's got 21 staples that he gets removed in another week. All those big goals of becoming a champion tracking dog sort of went by the wayside as he's been busy taking care of me all these years. Now he's about to get a new buddy. Lynda Webb is sending us another puppy this week, so Buck will have a new friend. I added a couple new pictures to Buckeye's Photo Page, so take a look!
Wednesday, October 27th, 2010:
Buckeye got his staples out last week and he's healing up just fine. He's getting to know his new buddy, Eli, and they are getting along good. We're finally going to start those tracking classes in November. We found a trainer down south in Auburn and we will go to our first class on November 11th.
Buckeye's father is in the American Black & Tan Coonhound Hall of Fame: Clark
Buckeye's grandmother is the top winning B&T in conformation in the history of the breed: Ch. Southchase's Warrior Princess "Xena"
Clark is also Eli's grandfather, and Xena is his great grandmother.
Tuesday, March 22nd 2011
I've been starting to train Buckeye to track, but I'm not sure I'm going to continue. I'm concerned that pulling in the harness is going to make his right front leg sore and painful. He's been having some mild problems since the surgery...every now and then he'll yelp for no apparent reason while we're out walking. I think the surgery still causes him some pain. Instead, I'm considering getting him into K9 Noseworks. I went to see Joan Fetty at Positive Dog Training today and they have a beginner class starting next month.
Friday, January 25th, 2013
On February 14th, 2012, Buckeye was feeling sick so I took him in to Animal Medical Center. I was afraid it could be torsion/bloat, but after an ultrasound and x-rays, the vet told me Buckeye had a large cancerous mass growing in his abdomen. She only gave him a few weeks or months to live. She sent us home with some Tramadol, of which I only used a few pills. Over the next 5 days, Buckeye improved significantly until he was back to his old self. While he certainly did have cancer, it seemed to go into remission and he had a great summer and fall playing with Eli and having fun. He began getting a little worse around Christmas of 2012, but we still were able to have a good holiday and we celebrated on Dec. 23rd the 9 year anniversary of Buckeye coming to live with me. Toward the end of January 2013, Buckeye began to get worse. His breathing became labored due to the spread of the cancer and he started to feel some pain. Today I took my beloved Buckeye on him final car ride to the vet, where he died peacefully in my arms. He was 9 years, 4 months old. Buckeye was the kindest, most gentle dog I have ever had. We never reached any of the lofty goals we dreamed of, but we didn't need to. Buckeye was my dog, and that is all I ever wanted or needed him to be. We were always there for each other and he helped me through some of the toughest moments of my life. He was such a good dog and I love him with all of my heart.