Dorset Beef and Guiness Pie
Bibble
Dorset beef and Guinness pie (with stilton in the sauce.)

With roasties, dauphine pots (sliced with onion, garlic cooked in milk with cheese) snap peas, sprouts, carrots and honey roast parsnips...

Most of the preps done, just cooking..

Gotta fill me stomach for tonites drinking...!!


Ok, here ya go.

2lb diced lean beef, I used diced rump.

1 bottle of Guinness

3 large onions, 2 for the pie and 1 for the dauphine pots

1lb of baby button mushrooms

1 bulb of garlic

2lb of potatos

250grams of stilton cheese

Half a cup of plain flour

Milk to cover pots

Veg of your choice, I used parsnips, snap peas, carrots and brussel sprouts

Puff pastry, you can usually get it frozen
1st of all marinade the beef over nite in a bit of the Guinness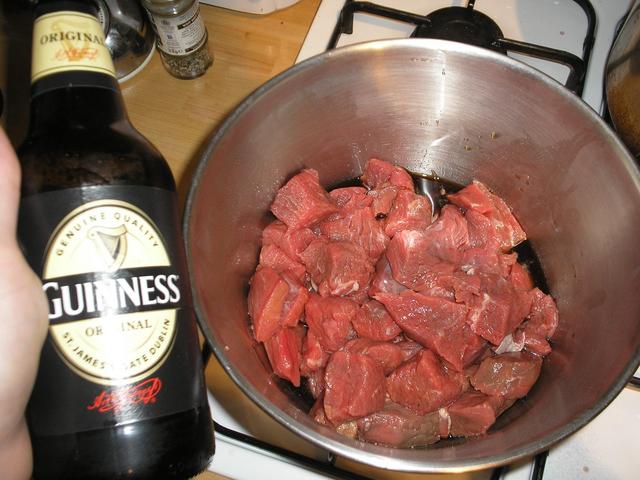 Dice up 2 large onions and 5 cloves of garlic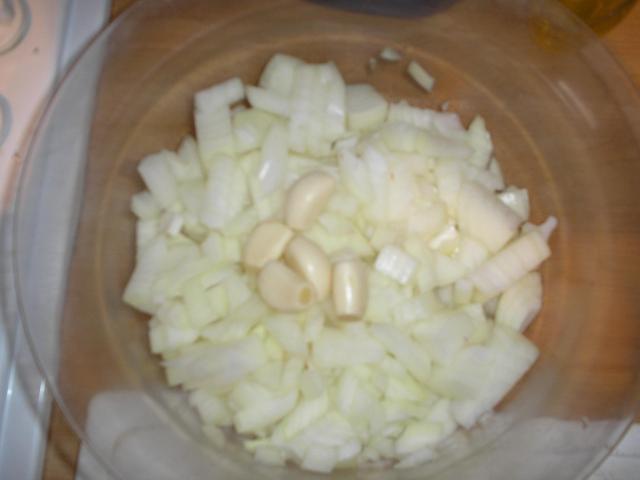 Sweat off the onions, without colour, just soften them up.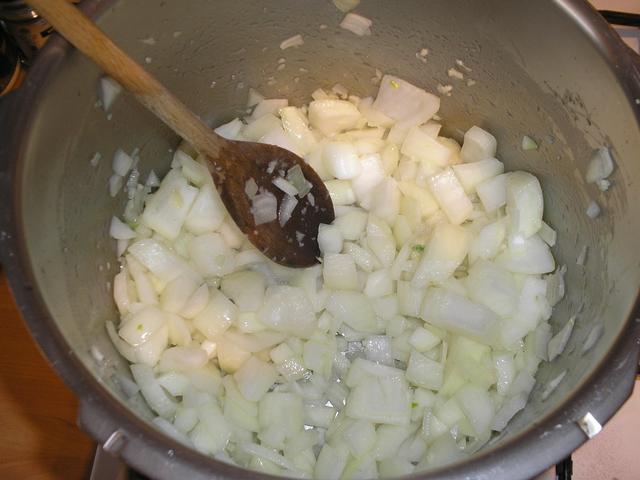 Add the beef and sauté over a hot heat for 10 mins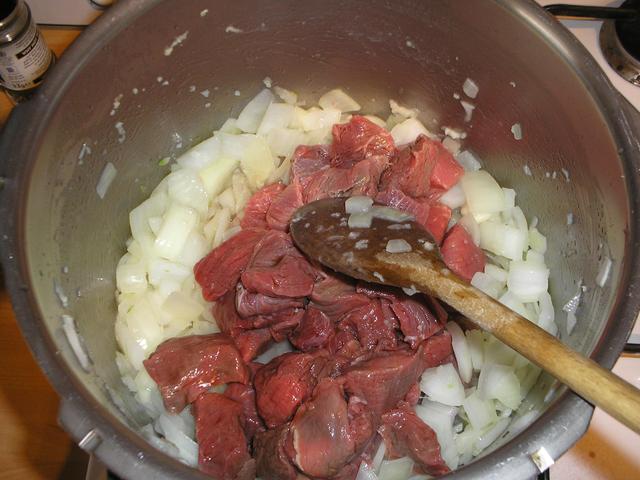 Add half a cup of plain flour, this will thicken the sauce, and 'cook out' the flour buy cooking and stirring for 10 mins on a hot heat.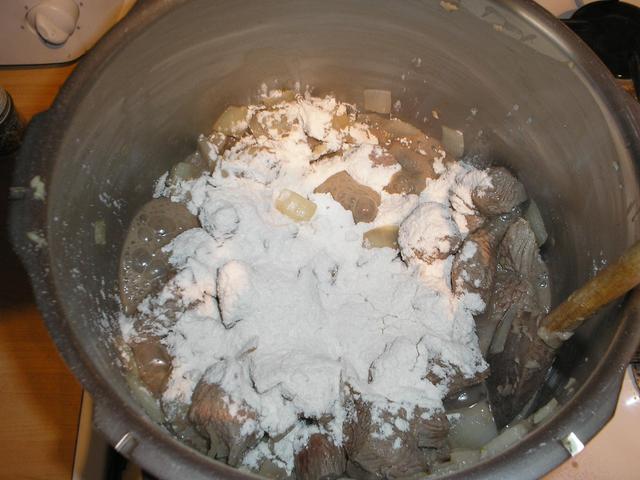 Add about 2 pints of beef stock, or add it until the sauce coats the back of a spoon, the add half the Guinness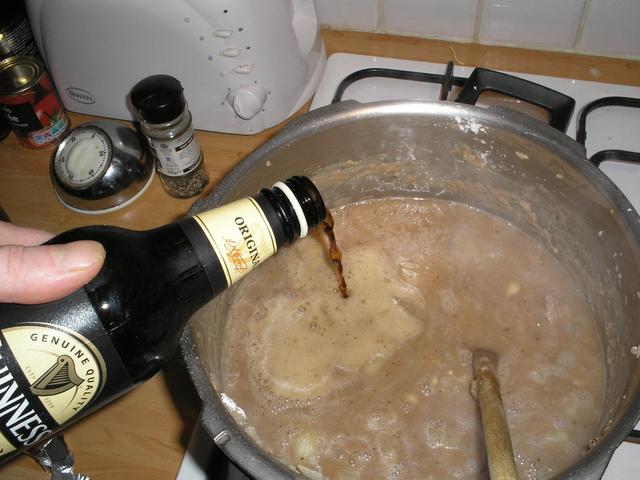 Let this simmer for an hour, stirring every 15 mins.
(use a wooden spoon and DON'T scrape the bottom of the pan, it will make it taste bitter)


Prepare the veg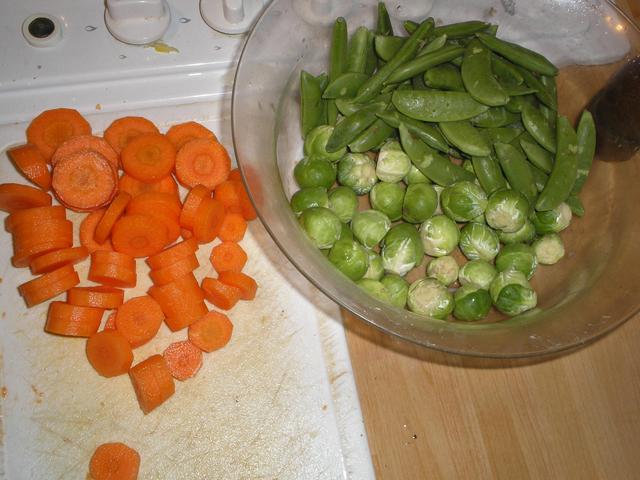 Blanch the potatoes and parsnips for roasting, this will make them light. Also, when you are straining the pots, 'swirl' them around in the colander this will make them a bit 'flakey'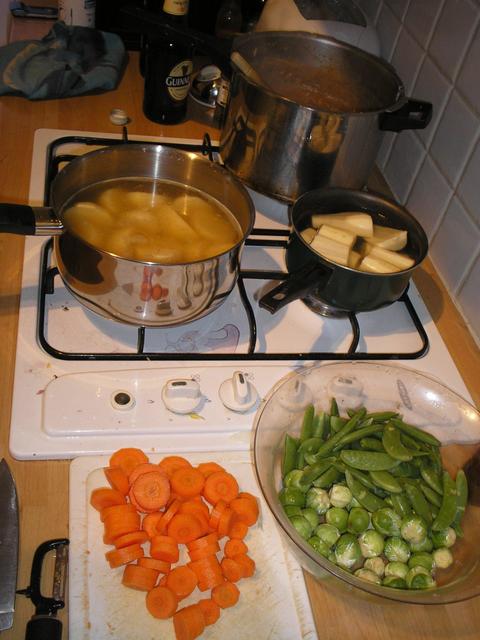 Wash the baby button mushrooms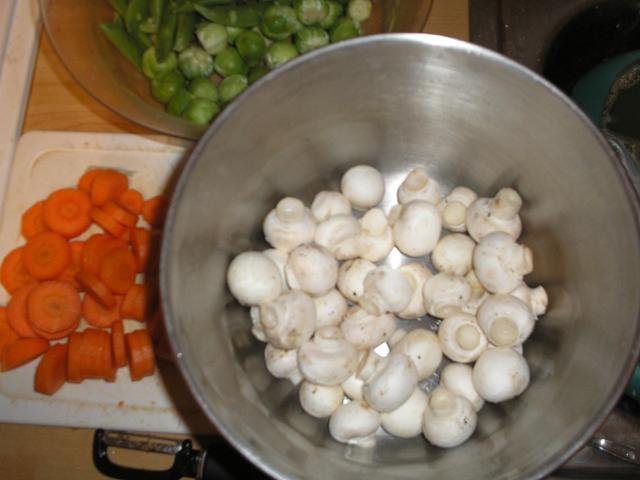 Add the mushrooms 20 mins before the end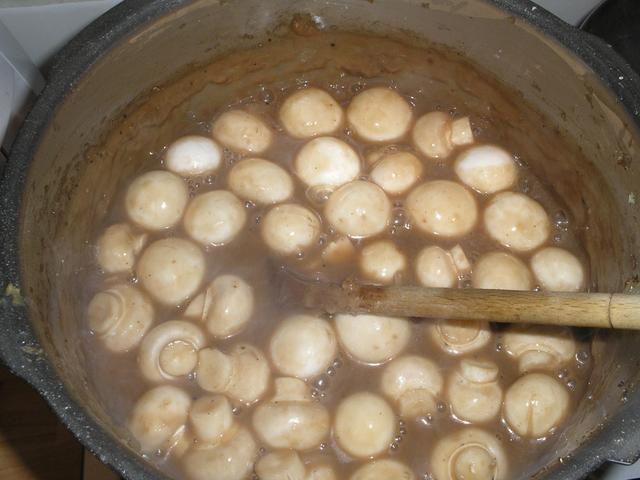 Add the rest of the Guinness. You can cook the alcohol out of the dish if you cook it for too long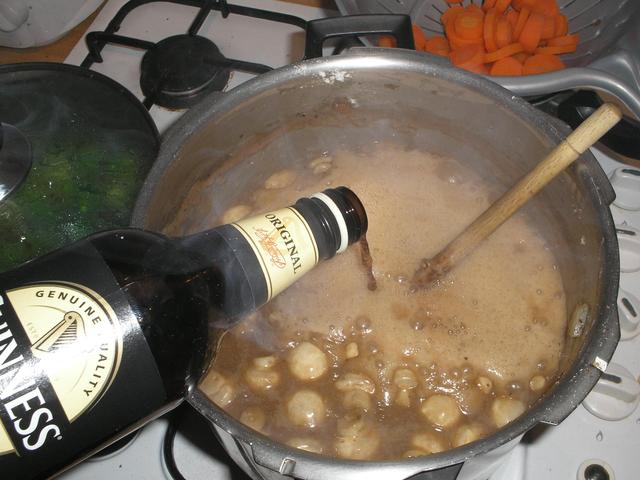 Just before you serve it, add the stilton to taste.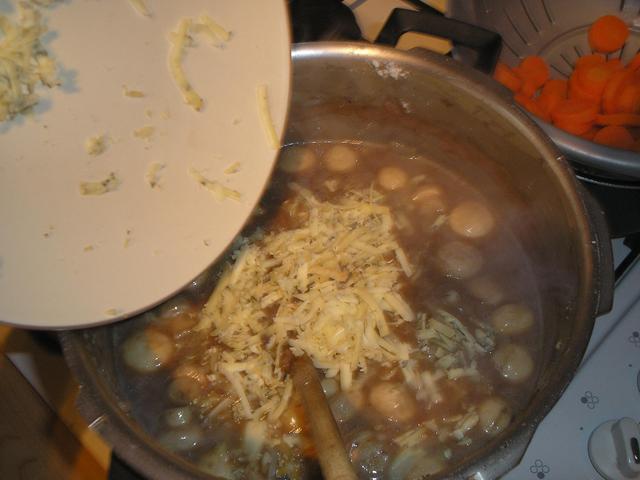 Dauphine potatos
(Start these after you have put together the 'stew' and it's cooking of an hour)
Slice an onion and crush 2 clove of garlic and rub them around the dish. Slice the potatos about 3-4mm thick and layer them pots, onions, pots, onions, pots. etc..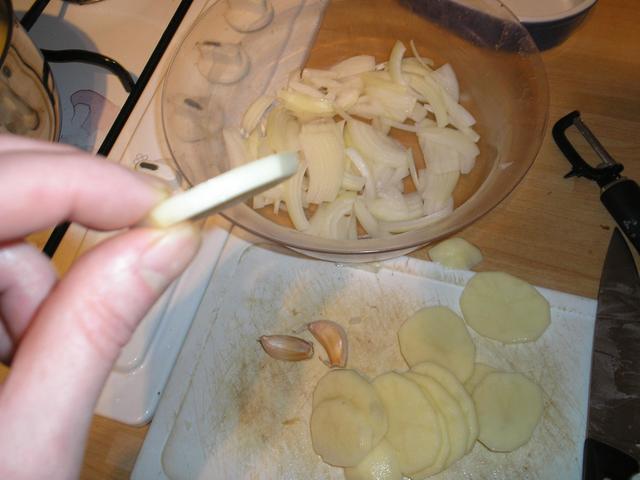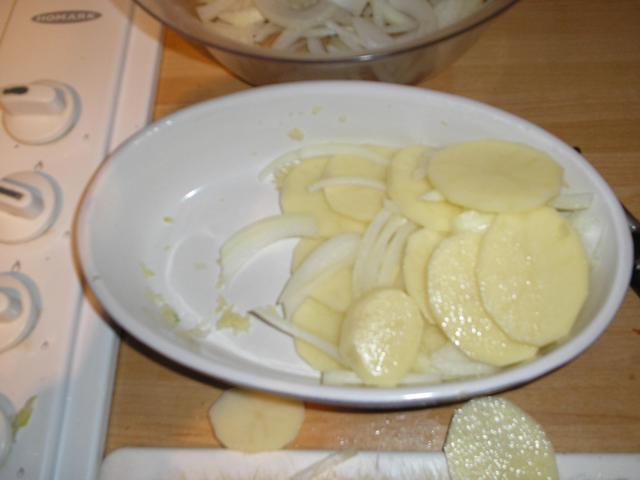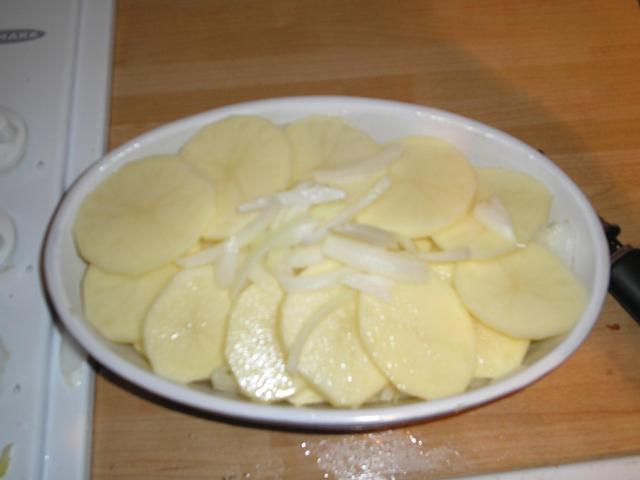 Layer the top layer so it looks nice…!! and pour over milk until its covered then season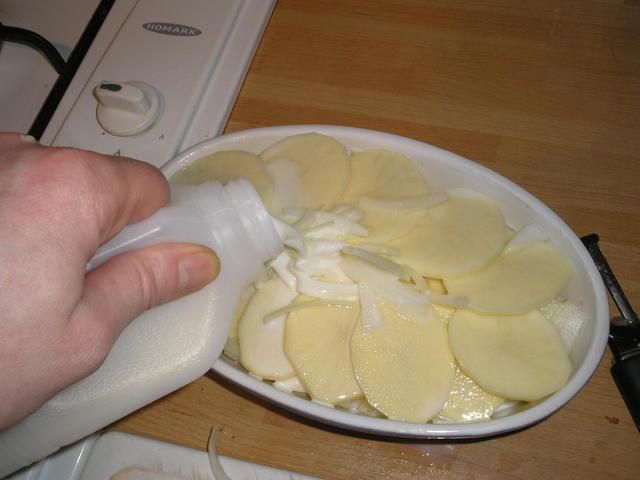 Put in oven, 160 -180 degrees and cook for 30 mins. Cover with tinfoil if it's 'browning' too quickly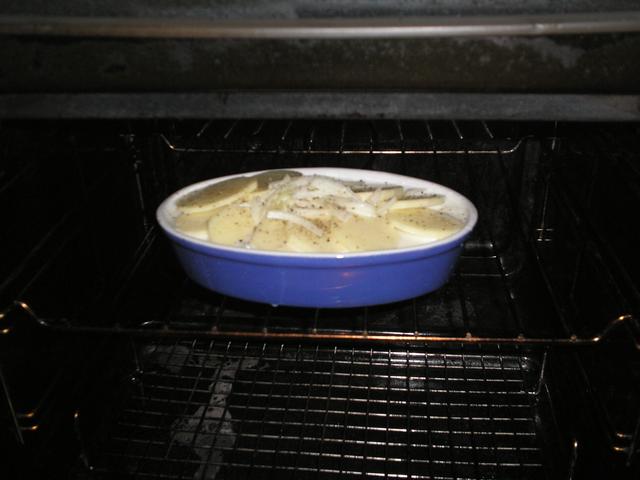 Pour off excess milk and add cheese evenly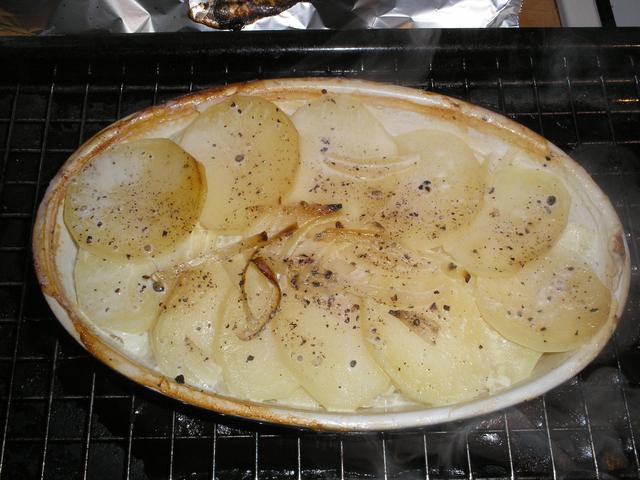 Bake for another 10 mins or until cheese is crispy, or how you like it.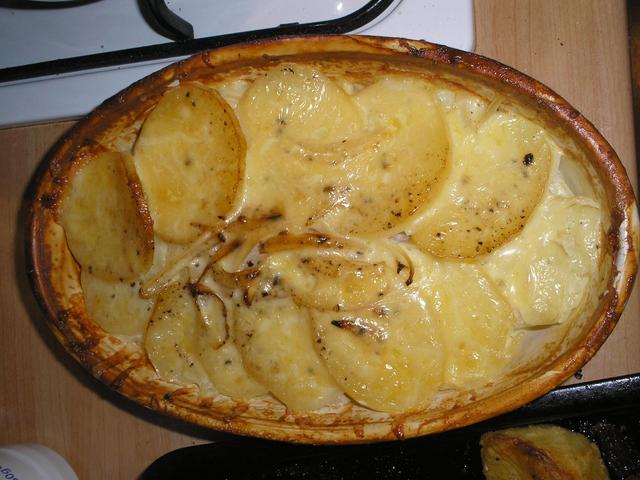 Roll out the puff pastry to the shape you want. Roll out about 2-3mm thickness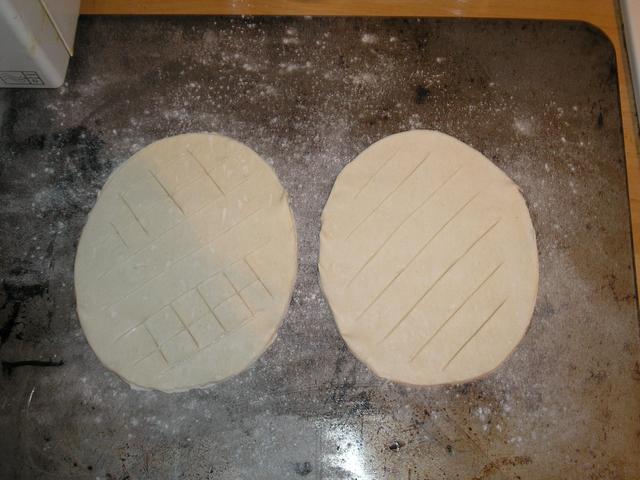 Gently score the top couple of layers to make a lattice effect and place on a thick try that's been greased and lightly floured (stops it from sticking and burning the bottom layer, due to the grease)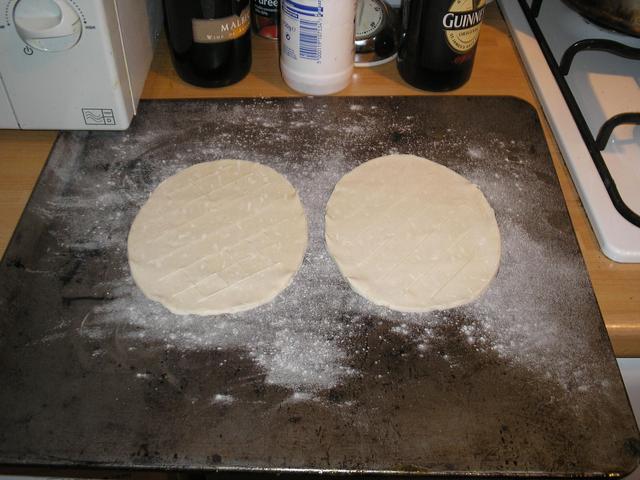 And bake for 15-20 mins at 200 degrees, or until risen and golden brown.
Bring all together and serve….