The Fishin Page!
Me an the dawg decided to buy us another boat...go figger...swore when I was 18 I'd never buy a boat...had 5 since then. Swore again when I was 30 I'd never buy another boat. This'll be my second since then...oh well. I'm gonna pick up a used 1987 Bayliner Bass Striker this week. Its a pretty nice boat that was owned by a little old lady that only fished it on sundays. Thats what the guy sellin it said, anyways. It was owned by a banker who never used it and left it outside all the time, so its sun-faded...but the guy sellin it is almost done re-carpeting and re-upholstering it (the new seats are nice). Its got a 85hp Force engine on it...not a huge engine but its fer recreational fishin, not bass tournaments.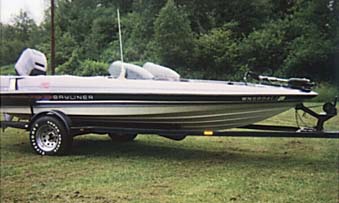 I've started a Fishin Photos Page (The Proof!), but it's still pretty bare...
Theres also a Fishin Journal I'm a gonna start up to keep notes on what works an what dont. Theres info in there on various lakes around here and all kinda stuff.
Home
Links
Racing
Skiing
Fishing