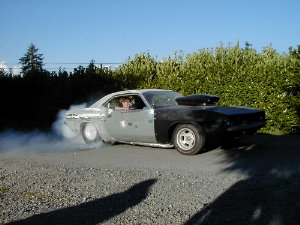 Jimmy's Prostock Dragster
We took Jimmy's car out for the first trial passes on an 1/8th mile dragstrip on Sunday, August 22, 1999. It was the first time out after over a year of building for the car and we were all looking forward to at last seeing the car run. The first pass was an easy one and the car looked good the whole way, pulling a 9.14 ET on the short 1/8th mile. The next pass was qualifying and we ran a mid-8 second time, and Jimmy chose the 8.00 - 8.99 bracket. It was single elimination bracket racing, which means that you choose your bracket and run against other people in that same bracket. Any car who runs a time UNDER thier bracket (IE: a car in the 8 second bracket running 7.50) 'breaks out' and is eliminated.
In the first elimination round Jimmy ran the car hard for the first time. He lined up at the tree against a '72 Camaro with a big block 396. He holeshot the other guy and at 2/3 of the track he was ahead by a nose with the big block Camaro coming on fast. As Jimmy crossed the finish line, the front driveline U-joint tossed an end cap and the driveline and tranny shattered, momentarily locking the back tires (18 inch wide Mickey Thompsons at about 90 mph) . On top of that, we got beat by an amazing bracket time. We ran a 8.027 time, which is an excellent 8 second bracket time, but the Camaro ran a 8.003, beating us and coming only three thousandths of a second from breaking out and being eliminated.
Our day was over regardless, though. We loaded the car up and headed home with the hurt ProStreet Barracuda.
This was the first time out and the car isnt quite done. Jimmy is still planning on adding more and better stuff to the car, like a set of 3.5 inch Goodyear Frontrunner tires on some skinny Centerline drag wheels and finishing up the body work and getting it painted. We are also looking around at various trannys to replace the old stock Mopar tranny that broke along with a new driveline.
This car is almost completely hand-built by Jimmy and Doug Udall. The entire chassis/frame/suspension was handbuilt from new mild steel tubing, the rear end was made by them, and all the aluminum work seen below was done by them.
For info on their availability to do custom work, email me at Avondell@aol.com.
(All photos are thumbnails, click on a picture to see a full sized image!)
Home
Links
Racing
Skiing
Fishing