The Racing Page!
Several of my friends and I are interested in motor racing, so I thought I'd make a racing page. There are a half dozen guys involved and we all have different kinds of racing experience. I raced top fuel drag motorcycles for a couple of years back in Ohio when I was a kid, Doug (the crew chief) built and raced off-road trucks in Arizona for a few years, Jimmy races funny cars and dragsters, and Eldon (the car owner) has experience racing dirt track AMA Superbikes.
Right now, we are racing Eldon's Early Modified IMCA car around the Northwest, mainly at Evergreen Speedway in Monroe, Washington. The car is an old coupe racing body on a homemade frame with a 450+ horsepower Chevy V-8, TCI racing tranny, and quick-change rear end. It runs on Goodyear Eagle racing slicks and burns 110 octane Trick racing fuel.
We are also beginning some testing on Jimmy's NHRA ProStock dragster. Its a 1973 Plymouth Barracuda with a full tube frame and a custom narrowed nine inch rear end. Its currently running a stock (internally) 318 Mopar engine, but Jimmy plans on installing a big block 440 Mopar engine someday.
I'll try to keep up notes on specific races and post links to them here.
SCORE Las Vegas/Primm 300 trip
IMCA Modified Notes from Evergreen Speedway in Monroe, Washington.
Check out Jimmy's NHRA ProStock 1973 Plymouth Barracuda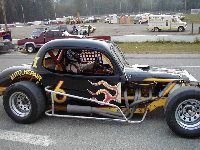 This is me driving the car on practice night.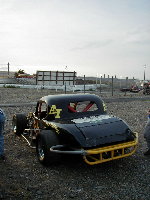 This is a shot of the car sitting at the 3/8ths oval track at Ephrata, Washington.
Home
Links
Racing
Skiing
Fishing