Avondell's Saint Hubert Littlefoot DeMers
Hubert's Page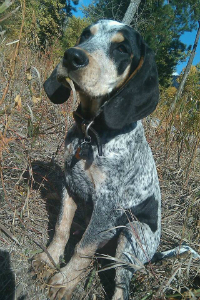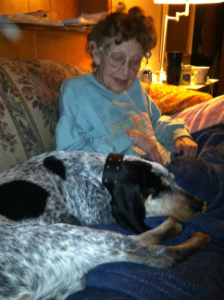 December 24th, 2013

:

Today I sent in an application to adopt this coonhound from the ABTCR.

Towards the end of November, I was asked to foster a Bluetick Coonhound from Montana for the American Black and Tan Coonhound Rescue. The dog's owner had passed away suddenly and this little dog and his brother had to find new homes. November 24th, a month ago today, a van pulled up and dropped off Hubert, the smaller of the two purebred hounds. His brother Frank went on to California where he has already been adopted. Hubert was born on May 26th, 2013, so he was barely 6 months old and 37 pounds when he arrived in Seattle.

Hubert was scared and overwhelmed when he first arrived, but he learned how to navigate the Black & Tan waters pretty quickly. He tested Eli's guarding problems right away and found out that it's all a big show and Eli really wants to play. Hubert can take all Woody can dish out, and when he's had enough he can let Woody know without rolling over and giving up. In the month that he has been here, Hubert has brought something to the pack and he's making them better.

Hubert came to me very well trained in the basics. His housetraining is great...no problems so far. He knows 'sit', 'stay', and 'wait' and he walks nicely on a leash. I hadn't taught him anything and just reinforced his training so far, but now that I've decided to adopt him, I started clicker training last night and Nose Work boxes today. He picked up the idea of the boxes pretty quickly, and I'll get him into one of Pritamo's NW1 courses soon.

Hubert is not like Eli or Woody and I think he'll be easier to teach some things. Hubert is what I think of as a 'front seat dog'. Some dogs have to stay in the back of the truck because they are too hyper and/or driven and will try to get out. There probably aren't too many coonhounds that will sit on the passenger seat of a truck with the window down while you drive around town and not try to jump out the window, scream like a mad dog at everything they see, climb on the dashboard/steering wheel/driver, or all of the above. Probably even fewer that will do it when they are a few days shy of 7 months old.

Today Hubert and I went to the Senior Center to drop off some milk and do a little training. I set up four boxes in the exercise room and showed Hubert that there was good stuff to be found. Then we went to Mud Bay Greenwood and bought some training treats and a rope toy to chew on (Hubert is in that shredding phase...) and then we went over to see Mom again. Mom met Hubert a couple days after he arrived in Seattle. After that we stopped by Aurora Veterinary Hospital to use their scale - Hubert weighs 51.8 pounds now, so he has gained almost 15 pounds in the last month. It's not too surprising because he eats like a little horse and he's filling out quick.

Christmas always brings memories of Bobdog and my Christmas dog Buckeye. I've given this a lot of thought over the last couple weeks. I have this wonderful little puppy here and this just seems like the right thing to do.




Sunday, January 5th, 2014

:

Hubert's training is coming along nicely.



Today we went to the senior center again to train...Hubert has had about 5 Nose Work box search sessions now and he is starting to get the hang of it. He's a lot different than Woody...much slower and more easily distracted...so I need to work on making it more fun and exciting for him. I'm confident that he'll be very focused eventually, but he is still pretty young...less than 8 months now. I talked to Pritamo today about enrolling Hubert in her next NW1 class. NW1 and NW3 both started today and Woody is in NW3. It may be possible for me to train Hubert up to NW1 on my own and then start off in Pritamo's NW2 class, which would probably start 8-10 weeks from now.

At home, Hubert is having fun with Eli and Woody. Eli and Hubert have formed a yard alliance and they chase Woody around. Woody loves it. They all get along pretty well...no bloody fights so far.




Saturday, January 11th, 2014

:

Hubert is going through his puppy phases.

Hubert has been quite destructive lately. The three of them are left in the house during the day while I work. Ex-pens keep them in the front of the house and contained enough that they don't get too crazy. Eli learned how to jump the ex-pen a month ago and Hubert has now figured it out, too. So far he hasn't destroyed anything terribly important...a couple throw pillows and an old desk chair I was throwing out anyways. I'll have to be careful for the next couple months, though. The house is mostly puppy-proofed now

.

A couple nights ago I started training Hubert Sylvia Trkman style heeling on a bowl. I posted a video of our second session on my YouTube channel. He is picking things up fast and he advanced some more tonight.




Monday, January 13th, 2014

:

Hubert learned to catch today.



Hubert learned to catch very quickly today. We were doing some heeling work after dinner and he was losing interest, so we sat down and tried to learn 'catch'. In about 5 minutes he progressed from almost no response to bits of sausage being tossed at him...to clumsy attempts to catch...to finally catching a piece. Once he caught one on his own, he had it down. He caught 5 more in a row after that, then I made the video. Now he can catch food from 10 feet away with Eli and Woody right next to him.




Friday, January 24th, 2014:

Hubert is learning the 'Hold" command.

I took a vacation day off but went into work to set things up for my sub. I took Hubert with me and we did some Nose Work practice in the exercise room before anyone arrived. He's starting to build some drive for Nose Work, which will be important for Hubert. He understands the game now and does well with entries and understanding the 'all done' command. He got to meet some of the Bastyr students and teachers when they came in and he saw his friend Gordo, a little Yorkie who is just a little older than Hubert. We went to the Golden Gardens OLA afterward and Hubert played with some other dogs. He's still pretty shy and timid at the dog park, so we need to do a little more socializing. Then we went to Mud Bay to buy a new bag of Missing Link and then we went to Magnuson Park and went for a walk and took some photos.

We've cleaned out the back bedroom and are using it as a training room. Hubert and Woody are both learning new utility commands. The last few days have been spent on shaping a 'Hold' command with an old rope toy and a few other props. The 'Hold' command is somewhat useful on it's own, but this can also be the start of training a retrieve. Coonhound retrieve. Yeah. Hubert might be able to do it. If I can train him to retrieve on flat then I might have to try him in the obedience ring. Long way to go for that, though, and just training 'Hold' hasn't been that easy so far.

'Catch' was extremely easy to train. They are both very good at catching now and when we are training they catch most of their treats. This makes things much easier and training goes much more quickly. 'Catch' is one of the most everyday useful commands and I haven't had a dog that could catch in awhile now. Now I have two! I have to be careful with them both, though...they smashed their faces together last night going for the same treat and I could just envision shattered teeth and vet bills.





Sunday, February 2nd, 2014:

Hubert's training is accelerating.

I've cleaned out a bedroom and converted it to a training room. I have a small card table and a metal cabinet, and I built some shelves out of milk crates. I have all my books and dog training equipment in there. During the week we train obedience skills 2 or 3 times a day and on the weekends we go down to the senior center and train Nose Work. Hubert's Nose Work training is progressing well. In the past couple of weeks he has overcome some difficult problems and learned how to enter search areas. Now he is quite good at checking around the moment he enters a room. He had some trouble getting to treats that are partially obscured by box flaps or underneath boxes. He was reluctant to move or touch boxes on his own. Now he is moving boxes with his nose to uncover hidden treats, which is an important skill. In turn, his confidence is increasing and he is really starting to show that he likes what he's doing. Until today we've only worked with boxes. Today I set up a search with 7 plastic sandwich baskets and had Hubert do a couple of searches with those. He did perfect on both searches. He's advanced enough to understand what we are doing and next week I will starting working more room searches with both Hubert and Woody. Hubert will be ready for a NW2 class in another week or two. Woody's NW3 classes resume Feb. 9th.

Hubert's obedience training is going well and his little brain cell is expanding. I've started expanding his catching skill to nonfood items and he can catch a ball or a rope toy or (especially*) stuffed toys. He's learned hand targeting and remote targeting. He's progressing well at heeling-on-a-box and I've started C/Ting for position and attention when he is out on a leash. Yesterday we started working on right hand 'shake' and using the hula-hoop. I've been working to attach a command to all the dogs jumping behavior...I just say 'jump' when they are going over a gate. I've been working with Woody on go-outs over a jump, but I haven't done much with Hubert yet.

*Hubert has a fondness for unstuffing anything stuffed. He's destroyed all my pillows so last night I went and bought new ones. He brutally murdered Wonderdog #2. He's eaten the face of two harmless cuddly white teddy bears. Mangled a toy mallard. Several dog blankets have fallen victim, too. It's a puppy phase.






Friday, February 28th, 2014:

Hubert has started on birch odor tonight.

In preparation for an Odor Recognition Test on April 27th, I've started Hubert on birch in Nose Work container and room (interior) searches. We've been training a lot in the last three weeks and we've made videos of Hubert searching boxes, heeling, and retrieving over a jump. Hubert is really learning a lot and his heeling is starting to look pretty good. Tonight we went to the senior center and did a few container searches and a couple room searches in the exercise room. I just got some new magnets and tins and my own bottle of birch.




Saturday, February 29th, 2014:

Hubert weighs 67.8 pounds now.



Hubert spent the morning with me at the center. We spent some more time on birch in container and room searches, but we had some difficulties because Hubert has developed a fear of the tile floors. I noticed last week that he was avoiding some of the areas where he had slid before. We worked on overcoming that and he's a brave dog. Then we spent some time upstairs. Hubert watched while Lauren and I moved things around and cleaned out the office. He was very nice and Lauren gave him treats.




Wednesday, April 30th, 2014:

Hubert earned his birch ORT this week!

We've been training hard in Nose Work, so Hubert, Woody, and I went over to Whidbey Island last Sunday and for Odor Recognition Tests at Langley Middle School. Miriam Rose and Georgia Edwards ran the event and there were over 50 dogs entered for ORTs. Hubert and Woody both passed thier tests. Hubert did quite well. There were two rows with six boxes each. Hubert chose the left row and indicated on the last box. I called alert and it was the right box! It's a great accomplishment for us, as Hubert has never been to a Nose Work class before, he only started on birch 8 weeks ago, and he's only 11 months old...not quite old enough for a trial yet. As a result, Pritamo invited Hubert to join her Tuesday evening class, so we went down there last night. This class is a more experienced group. We did some car searches in the nice weather. Hubert has never done vehicle searches before, so he had some trouble getting started. That is going to be our mission this week: work on vehicle searches and working outside. Hubert is very smart and has a lot of focus. He doesn't spend a lot of time looking around or investigating people, but he has a problem with smooth floors. The floor in the gym at the ORT was an old tile floor, but it was sticky and not slick at all. Even so, Hubert reacted to it at the start line and I had to let him relax for a few seconds before I told him to start. This prevents Hubert from having a lot of drive and the extra focus he will need when things get really difficult. Hubert does a really amazing and brilliant job of searching the rooms upstairs at the center, where there is carpet. I think he could pass a NW1 interior room search right now, if it was on carpet.




Monday, May 26th, 2014:

Today is Hubert's Birthday!



Today is both Memorial Day and Hubert's birthday, so we have the day off and are relaxing at home. We've been training a lot the last month and Hubert has gotten better at doing vehicle and interior searches. He is slowly overcoming his fear of smooth surfaces. On Saturday I took both Hubert and Woody to the center to train and following Woody around seemed to help Hubert's confidence on the tile. We've been going to Pritamo's Tuesday night class and Hubert has been doing well there, too. Hubert walked with the senior center's contingent in the 17th of May Parade this year in Ballard. It went much better than last year's attempt with Woody and Eli. Everyone loved Hubert and it was a good experience for him. Tonight Hubert and I went to the center to do some extra training for his birthday. He likes to train, so it's a good present! He did his first large area interior searches in the dining room and went 3 for 3. He's now done all four element searches: interior, exterior, vehicle, and container. Of the four, Hubert and Woody are both best at interiors, followed by containers. Hubert doesn't have much experience on vehicles or exteriors, but we are working on them and progressing. Eli has had a Whistle since January and now they are offering early supporters (like me) a chance to buy the new WhistleGPS with free lifetime service for $49.95, so I bought one for both Woody and Hubert.




Sunday, August 24th, 2014:

Hubert the Therapy Dog?

Hubert has been taking a little break from Nose Work as Woody is preparing for a trial. Mom has had a small stroke and has been in Northwest Hospital for the last ten days, so I've taken Hubert up there five times now to see her. He is very nice and well behaved in the hospital, but I'm not sure how much he actually likes it. Sometimes it's hard to tell what Hubert likes and doesn't like. Mom will be moved to a rehab place soon, so we'll have a few more opportunities to give that sort of environment a try. If it seems to be something Hubert can do, there is a local group called Project Canine that I will investigate. I took some puppy classes from the director

,

Judith Anderson-Wright, at Great Dog about ten years ago with Buckeye.




Wednesday, September 3rd, 2014:

A little bit about Hubert.

Woody earned his NW1 title so now Hubert is back in the Nose Work training rotation. I will likely enter both Woody and Hubert in an anise ORT at Miriam Rose's training facility in Sequim called The Kindred. It will be held Sunday, October 26th so that gives us plenty of time to learn the odor. I will probably just focus on anise-flavored container searches for a few weeks. Hubert is about 15 months old now and is beginning to mature into the hound he's going to be. Woody and Hubert have a serious rivalry that is contested every day...day and night, indoors and out. Hubert is strong and barrel-chested and built like a little tank, in contrast to Woody who is slender, lighter, and very quick. Their fights almost never escalate to hurt feelings anymore, as they both have a small amount of respect for each other now. Hubert really idolizes Eli and will 'protect' him from Woody, to the point where Woody and Eli just can't play together if Hubert is near. Hubert can be very intense in his concentration, even for a hound, and he's probably the smartest dog in the house...at least at problem solving. I'm not sure, however, what he likes to do. He's not as driven as Woody to work with me, so it's a bit more difficult to determine what he likes.

He seems to enjoy Nose Work in the right conditions: upstairs at the senior center he's as hot and driven as Woody, but get outside on a vehicle or downstairs on the tile floor and he slows down a lot. One of my challenges is learning how to build his drive and overcome some of his environmental obstacles like surfaces. Hubert doesn't have the drive to train as much as Woody, so it's important that the emphasis is on fun and success rather than the challenging situations I give Woody. Hubert is still right behind Woody in Nose Work ability, but I'm not sure he could endure what Woody went through at the trial last week and still want to work at the end of the day. He'll get there eventually, but he's not going to advance as quickly as Woody. Hubert may end up doing some element trials first, before attempting at NW1. Who knows.

I want to continue exploring some sort of therapy dog options for Hubert, but this is another area where I am not sure what Hubert likes. He made a total of 7 or 8 trips up to Northwest Hospital to see Mom and he was always extremely well behaved, but he was also a little shy...which I suspect may be because of the tile floor. It's possible that a program like Reading with Rover might be a better way to start therapy dog work with Hubert, at least until I can figure out some more effective way of dealing with his slippery floor issues. I don't want to do anything...whether it's Nose Work or therapy work or anything else...that Hubert isn't enthusiastic about. If it's not fun for him then there is no point in doing it...he'll just be stressed out, which is bad.




Wednesday

, November 26th, 2014:

Hubert gets better every day.



The dogs all get crated when I am gone. They are all crate trained. Eli is very happy in his crate and runs in there every morning. Woody is slightly less motivated, but if I motion towards a crate Woody will run into it. Hubert doesn't like crates. A few months ago I would have to go get him and carry him to the crate and put him in it. I started working on calling him to me, even though a lot of trainers would say you shouldn't call your dog to something he doesn't like. Most of the time, that's probably true. I started conditioning Hubert with just praise (all the dogs are 'praise' trained in the same way they are clicker trained) and increasing in extremely small increments...about a half a footstep a day most of the time. In the last 4 days I've been able to call him to the very edge of the cage...this started on the other side of the house in my bedroom...and this morning he walked into the crate on his own. This took 3-4 months, at least. We only practiced once a day in the morning for less than 60 seconds. I'm pretty sure it has strengthened his independent recall a lot, but I couldn't prove it. Could be other factors involved...he's maturing and becoming more intelligent.




Saturday

, August 29th, 2015:

Hubert earned his NW1 title today.

Wow, it's been a long time since I've updated the website. All three dogs have been training hard all summer. Today was Hubert's NW1 trial in Bellinham. It was another great trial put on by Nose Work Magic. It's been a long, hot, dry summer...until today. Today it rained hard in the early morning, making the drive up to Bellingham a bit slow. Once we got up there, the wind started up. I would estimate the wind gusts were topping 60mph. Lots of the participants were chasing runaway canopies and there were trees being blown down in the parking lot. Half of the state is without power. Our first search was the exterior search followed right after by the container search. The exterior search area was a small concrete picnic area in the Syre building complex. There were three round concrete picnic tables and the area was completely exposed to the wind. Many of the competitors expressed concern about this search due to the high winds. As it turned out, 96% of the participants passed this search, the highest percentage of all the areas. Hubert and I took about a minute to search the area. Hubert alerted on a table and I called it. We went directly to the indoor container search and Hubert alerted on the correct box in about a minute. The final two searches were broken up, so we did one search and then went back to the car to wait to do the next. The third search area was the interior search. It was in a small chair storage room. I let Hubert off leash and he worked the room very nicely, finding the hide in the corner and alerting. The last search area was vehicles. There were two cars and a small truck and the wind was blowing hard. Hubert doesn't do real well on vehicles to start with, and he rarely has to search three cars at once. We started working the area into the wind the best we could. Hubert worked around the truck and didn't find anything. He worked around the downwind car twice before I realized the hide was on the upwind car and the odor was all over the downwind car and thats why Hubert couldn't find it. We were 90 seconds into the 3 minute time limit when I pulled Hubert off of the upwind car and guided him to the front of the other car. He worked around the license plate and then alerted and earned his title. 28 of 45 participants passed the trial.